My hack Good Email Club just got featured on the TechCrunch front page! We built an app to surface the most positive/happy emails in your inbox every morning so you can start your day feeling positive.
More project details at DevPost.
Right after my partner JeanCarl pitched on stage at the TechCrunch Disrupt SF Hackathon 2015, we were interviewed backstage by TechCrunch writer Anthony Ha about our hack and how we got into hackathons. Check out his post here.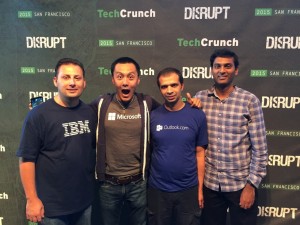 We even ended up winning the Yammer Prize (4 Xboxes) and 2nd place with Microsoft Outlook for $1,500.
Finally made it onto TechCrunch. Next up, getting Gogohire on TechCrunch…once we're ready for a major push…which is coming soon 🙂